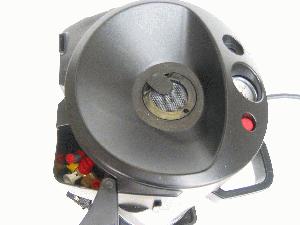 The Gloria 400/500 series are our Premium Product Range.
The 400/500 series are a new generation design of Gloria steel sprayers. These sprayers are 5 or 10 Litre capacity available in Stainless Steel & Steel, with Viton or Nitrile seals. The 400/500 range offers additional features whilst maintaining the high performance and reliability characteristics of the traditional models.
Externally, the redesigned filler funnel incorporates a compartment to store spare tips, filters and "O" rings and a filter to minimise the risk of contamination when recharging the sprayer. The shoulder carry straps are a new design to provide for extra comfort in use and the pump handle is a comfortable ergonomic design. Technical improvements include the Steel tanks being finished with a special long life polymer inner coating and a combined pressure release and high pressure safety valve.
Heavy Duty Specials
Heavy Duty Stainless and Steel Sprayers are fitted with Viton seals and customised for specific tasks. Applications include; BITUMEN EMULSION, CONCRETE CURATIVES, MOULD OIL, CREOSOTE, WOOD PRESERVATIVES, WATER BASED and SPIRIT BASED FABRIC PROTECTOR FLUIDS etc.
GENERAL FEATURES AND SPECIFICATION
Tank Container:
Welded stainless steel or welded mild steel. The mild steel tanks are lined with a polymer coating and painted. A pressure gauge, safety valve and decompression valve are fitted in the top of the container and protected by a plastic shroud, which also acts as a filler funnel. The plastic base moulding provides protection for the tank anda 'parking place' for the spray lance.
Carrying Straps:
5 litre models are provided with a single shoulder strap; 10 litre models are provided with a back-pack type, twin strap harness. Both versions are adjustable.
Pump:
Strong brass construction, pump barrel and plated steel piston rod assembly employing a very simple and efficient 'O' ring principle. The complete pump is unscrewed and removed for filling and can be used to carry the sprayer when it is replaced.
Delivery Hose:
The standard hose is 1.3 metres of strong, but flexible reinforced, oil resistant rubber. Alternative lengths and types of hose are always available ex-stock.
Trigger:
Very robust, quick action valve, with brass body and internal action. A removable strainer is incorporated in the handle to minimise blockages. Spray pressure control modules are available which fit between the trigger valve and the spray lance. These can be supplied either as an optional extra with new sprayers, or as an accessory for existing sprayers.
Spray Lance:
Brass 0.5 metre working length. Extensions are available from 0.5 to 2.0 metres.
Spray Nozzle:
A brass, adjustable nozzle, variable from pencil jet to a fine, hollow conespray pattern is standard equipment. Many alternative nozzle types are available ex-stock for specific applications. We stock tips in brass, stainless steel and plastic, please ask if you require an different spray tip.
Seal Material:
Standard seals are Nitrile rubber. 'Special' models are fitted with Viton (R) seals.
Maximum Working pressure:
6 bars (90psi)
VAT is included in the prices shown. Some items may incur a delivery charge