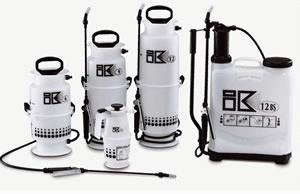 iK Chemi Resist Range Five models in the range. 12 Litre Knapsack Sprayer 1, 4, 6 and 8 litre Working Capacity Compression Sprayers
These are industrial sprayers, specially constructed from high grade plastics and glassfibre with Viton (R) seal material. They are designed to withstand 'problem' chemicals which attack many of the component materials in 'ordinary' sprayers.
Typical 'problem' chemicals include alkaline degreasers and traffic film removers, acid descalers, cleaners and sanitisers, brick cleaning acids and descalers, iodine, chlorine and phenol based disinfectants. iK sprayers are also suitable for many oil and spirit based products.
iK Sprayers are supplied with adjustable nozzles and fan spray nozzles are available if required. Please contact us if a fan spray nozzle is required.
VAT is included in the prices shown. Some items may incur a delivery charge